---
Wedding Planner, Officiant & Coordinator in Key West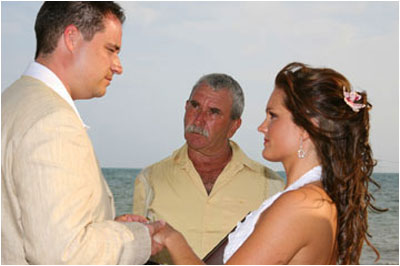 You may wonder how Aaron became a wedding planner in Key West.
He was born and raised in New York City and arrived in Key West 25 years ago. He figured that if you make a change…why not make it 180 degrees!  What attracted Aaron the most to Key West was the environment and the small town nature of this southernmost city; the warmth and openness of the people; and the "live and let live" attitude that seemed to emanate from nearly everyone.
After starting a small business, Aaron eventually began working as the concierge in Key West's largest and most prestigious hotel. While working there for ten years, he learned the ins and outs of what to in Key West, where to go, how to do it, and perhaps most of all, how to do it well. It is this inside knowledge that Aaron loves to share with the wedding couples that he works with.
Performing a wedding gives Aaron an opportunity to share a very important time in a couple's life together.  Aaron recognizes through his own experiences that people are meant to share their lives with one another and not to spend their life alone.
Aaron looks forward to helping you and your significant other celebrating your Key West wedding.  Whether you need help planning or someone to officiate, we can customize your wedding package.
View the available wedding packages to find what is best for you. Please keep in mind that our Key West wedding packages can be adjusted to meet your needs.  Feel free to contact Aaron directly with any questions you may have.